Frequently Asked Questions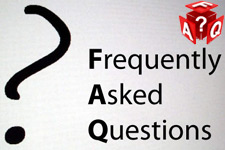 What is the Operating system available for hosting?
Operating system for Server is CentOS Linux with Apache webserver is guaranteed to perform at a rated uptime of 99.99%.

Is there a Setup cost? Can I pay monthly?
There is NO setup cost what so ever, all the prices you see on our website are fixed and final and you don't pay anything over and above those prices. All mentioned amounts are annual prices and are payable annually, there is no provision for monthly payments for our services.

Where are the servers located? What is the uptime?
Our servers are physically located both USA and India plugged into T3 networks with multiple redundant links connected to multiple service provider backbone, this provides our server with a guaranteed 99.99% uptime throughout the year.

What's the time taken for domain registration and hosting to be setup?
If payments for domain registration are made online, then the process for registering the domain is real-time, for hosting its about 12 hours. For offline payments the setup time is within 24 hours of physically receiving the Cash/Cheque/DD.

What is reseller hosting? How it works? For whom?
Reseller hosting is used for hosting multiple websites, from one hosting a/c by dividing it up at whatever ratio you need to have. eg. a 50 MB NT reseller a/c may be used to host upto 10 websites of 5 MB each. One or more websites can be setup at any given time by logging into a reseller control panel and carving out the space for a website. Any website a/c can be modified/created/deleted by the reseller real-time. This package is mainly meant for individuals who are engaged as web designers, or companies who want to do business as web hosting concerns without investing in servers, softwares and peripherals. The reseller's clients will never no us. The customized branding features give the feel and look of the site of the reseller with his Co. name. We use generic anonymous name servers to make us untraceable by reseller's clients. This a/c can also be employed by companies who have quite a few websites for sister concerns.

What is a hosting control panel?
Hosting control panel is a web-based interface to manage your hosting a/c and is used for various purposes like, setting up mail a/c, aliases, allocating mail & ftp space, database, ftp a/c, custom errors etc.

What is a domain control panel?
Domain control panel is a web-based interface to manage your domain name a/c and is used for various purposes like renewals, booking additional domain names changing Registrant, Admin, Technical, Billing, DNS information etc.

What is a reseller control panel?
Reseller control panel is a web-based interface to manage your reseller hosting a/c and is used for various purposes like, administering your own website, creating/editing/deleting your customer hosting a/c, setting up permissions to use a database feature, allocating monthly bandwidth, allocating the number of mail a/c, subdomains, ftp a/c etc. All the features are real-time.

What databases do you have for Linux?
We have MySQL database for Linux.

Do you offer webmail with POP3+SMTP (using Outlook)?
We offer both webmail and POP3 email a/c with SMTP server to send and receive emails from your home/office computer using Outlook Express/Netscape Communicator etc. and through webmail facility you can check e-mail from cyber cafe or any other public place when you are away from home/office.

How do I upload my files for hosting?
You can upload files for hosting from your computer by using a ftp software (Cute ftp or WS ftp downloadable free from www.download.com or www.zdnet.com). You have to use the user ID, password and ftp address that we provide to you with your hosting a/c to login through the ftp software and sending the files for hosting on the remote server. This process is actually very easy and both these softwares come with tips and brief built-in tutorials.

Why isn't my site showing?
There can be several reasons. If you have just purchased a domain name and hosting a/c then it takes about 24 hrs for the domain name to point to the hosting a/c this happens because the root servers of the Internet gets updated once a day. If you have changes the DNS details of your domain name previously bought to point to your hosting a/c, then again you'll have to wait for 24 hours to view the site. If your hosting a/c has already expired. If your domain name has already expired. If you have not pointed to DNS details right to point to your hosting a/c (for domain names that haven't been bought from us). If your ISP may be experiencing temporary problems. If our datacenter may be experiencing temporary problems. These are the plausible causes for you site not showing.

What's the protection against virus attacks?
Our datacenter and our server have 3 tier-level for virus protection, to ensure your site is in no way affected. But there are instances where the attack is so massive that the whole or parts of the Internet collapses, called denial of service attack and even the best of efforts may prove futile, it last happened in February 2003 where even sites like yahoo.com, msn.com, microsoft.com simply collapsed and it took 24 hrs to restore complete services for these websites.

How to setup database for my website?
A database can be setup right from the control panel that we provide you with. On the database section you get a choice of MS Access, MS SQL, MySQL databases. You have to add a database by giving it a DSN name, setting its path & assigning password(if you want password protection) and upload the database file using ftp into the designated folder on your site.

Why is my main page not showing? Is there a rule?
One of the most common reason is missing out on uploading the main page, though there are several other reasons that can also contribute to your main page being not visible. The foremost reason is not following a simple rule while designing the website, that the name of the main page (while hosting on Linux) should be index.html or index.php or index.cgi etc. this rule should be followed religiously whether or not you are currently facing any problem by not sticking to it.

How to submit to search engines? How much does it cost?
There are several search engines on the net & most are utterly worthless, some of the search engines that count are Google, Yahoo!, Altavista and Lycos (in order of importance). The most sought after SE is Google and its absolutely free to submit. It takes anywhere 2-4 months to get into google and once you are into google you automatically go into yahoo, altavista and lycos. Though Yahoo! charges some money to get into its directory, but then again its a wastage of resource. Another directory to look into is dmoz.org (free submission) and this is the site from where even google sources its search. So just remember that getting into search engines take time and not money. There are thousands of sites offering quick inclusion for monetary consideration and almost all of them are hoax, out to mint money from gullible site owners.

What's the waiting period to get listed into a search engine?
Depending upon the rush its anywhere between 2-4 months of waiting but its worth the wait. Type 'add url' for search in Google and a link will be displayed to add your site directly to google, remember its free.

Do you do search engine insertions?
Yes, we submit to google for every hosting a/c setup with us but we dont guarantee whether or not google finally adds your site to its index, you are requested to resubmit your site to google after a month (process described in the pervious answer).

Can I transfer my existing domain name to you? Can I park? Can I transfer out?
Yes, you can transfer your existing domain name from your current registrar to us, transferring your domain name automatically renews your domain name for another year. The only thing to keep in mind that the domain name should not be less than 60 days old or it should not have less than 6 days to expire. Expired domain names cant be transferred. The transfer cost is the same as registration cost. Parking any domain name is free (compulsorily under ICANN rules). In the unfortunate event you have to transfer out your domain name to another registrar, we'll provide all the support needed and will release the domain within 24 Hrs of getting a formal request from the receiving registrar, though we firmly believe such a situation will never arise.

What is DNS? What's your DNS details?
DNS or Domain name server is the pointer for the domain name to show where the hosting for the site is located, i.e. on which server on the Internet. Our Domain name server details are:

Linux CentOS Operating System:



Name Server: ns5.cpaccess2.com
Name Server: ns6.cpaccess2.com

Name Server: ns50.goforhosting.com
Name Server: ns51.goforhosting.com




Do you offer backup? How often? Is there an extra charge?
Yes, we do. The backup option is available through the hosting control panel. You can set the frequency of the backup for your site as often as you wish. There is no extra charge for this feature.

What's protected directories? Do these help?
Password protected directories are directories that can be assigned password to open or delete that directory. Its helpful if you have more than one person accessing the site through ftp protocol. If you have only one user for ftp handling, then this feature is not important.

What's an ftp a/c? What's a POP3 a/c? What's SMTP?
Ftp a/c means File transfer protocol and is needed to upload files to the server for your. POP3 is an email a/c which can be accessed by softwares like Outlook Express and Netscape Communicator and is more convenient than webmail when checking from your home/office computer. SMTP is the protocol to send mail from these softwares from your home/office computers.